Human Resources
There's a better way to manage your greatest asset.
Turn your HR department into a strategy center that's focused on building culture, improving productivity and staying ahead of workforce shifts.
Accrual Management
Give employees full access to individual accrual and PTO data.
Job History
Maintain accurate, accessible records for every employee.
Employee Self-Service
Improve HR efficiency by providing self-service tools to your staff.
Certification Tracking
Manage all performance reviews and training history.
Salary Management
Manage salary and benefits status and history. 
Company Assets
Track items given to employees, such as company vehicles, keys, and even laptops.
The perfect system to manage your workforce
PayServ's Human Resources module is powered by iSolved's comprehensive technology that offers highly configurable reporting and executive dashboards.
View Demo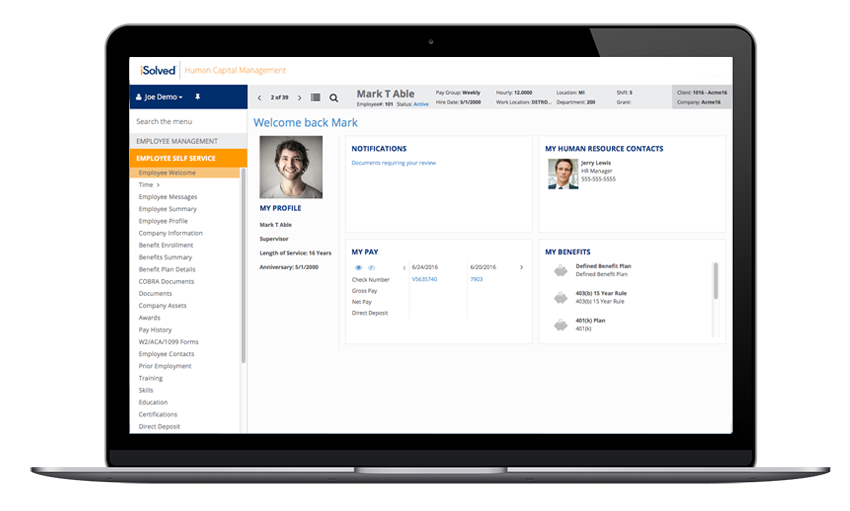 ENGAGE
Need Personalized Human Resource Support? 
Ask your payroll specialist for information on our HR partner CE3 Solutions (www.ce3solutions.net), they specialize in various Human Resources disciplines and support for Small Businesses. CE3 Solutions offers the following services:
Policy and Procedure development and documentation.
Employee Training Program development and implementation
Employee Handbook Creation and Updates.
Regulatory Support (OFCCP, EEOC, OSHA, Dept of Labor).
Business Readiness/Continuity Management.
Remote/Virtual Workforce –Employee and Manager readiness.
Conflict Resolution/Employee Relations Advisement.
Health/Safety/Security/Privacy Process and Procedures.
Workplace Violence Prevention Training and Policies