Human Resources
There's a better way to manage your greatest asset.
Turn your HR department into a strategy center that's focused on building culture, improving productivity and staying ahead of workforce shifts.
Accrual Management
Give employees full access to individual accrual and PTO data.
Job History
Maintain accurate, accessible records for every employee.
Employee Self-Service
Improve HR efficiency by providing self-service tools to your staff.
Certification Tracking
Manage all performance reviews and training history.
Salary Management
Manage salary and benefits status and history. 
Company Assets
Track items given to employees, such as company vehicles, keys, and even laptops.
The perfect system to manage your workforce
PayServ's Human Resources module is powered by iSolved's comprehensive technology that offers highly configurable reporting and executive dashboards.
View Demo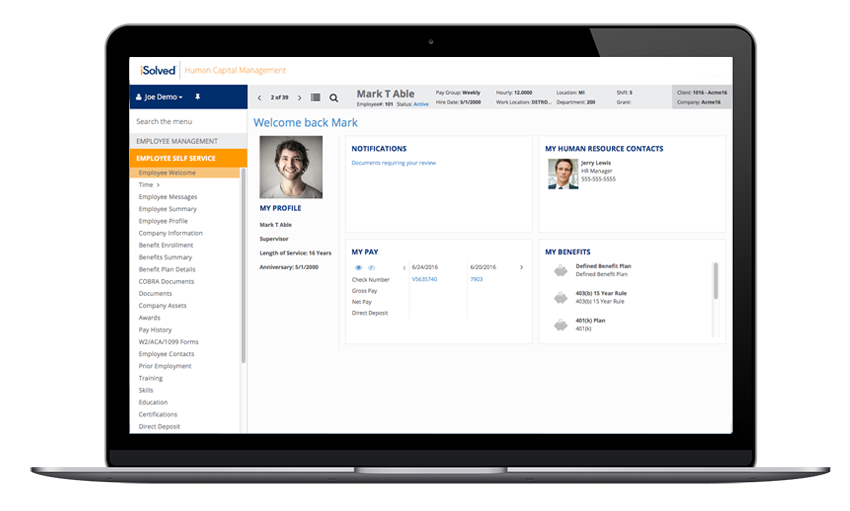 ENGAGE
Energize and BRING Your Employees Together
Employees want tools that help them stay connected, share ideas, seek help and collaborate. Employers want to find, retain and develop top talent, as well as improve productivity and reward innovation and success.
PayServ Payroll can help transform your workplace with iSolved's trend-leading "Mojo" engagement solution. Mojo is a key building block addresses corporate challenges:
Support merger and acquisition
Increase operational efficiency and compliance
Attract and retain top talent
Execute a total organizational transformation
Contact Us
445 Route 304
Bardonia, NY 10954
Email
info@payservpayroll.com
Client Support
payrollgroup@payservpayroll.com
Request a demo or ask about our HCM solutions.