PAYROLL
We have the solution for painless payroll management.
PayServ Payroll Solutions brings you local, personalized service combined with industry leading software. We offer a single source, cloud-based solution to ensure your payroll is processed efficiently, accurately and easily every time. Allowing you to manage everything together in one easy to use system.
Contact us today so that we can customize a solution for your company.
PAINLESS
Payroll & Human Capital Management
Employ. Empower. Enable. PayServ does it all. We're proud to offer a single source solution for payroll, HR, time tracking and benefits. Built to automate tasks, increase efficiencies and improve productivity all while being cloud-based and user-friendly.
PAYROLL - Process efficiently, accurately and easily
TIME - Automated time tracking & scheduling capabilities
HR - Eliminate paper and streamline HR workflows
HIRE - Recruiting, hiring and onboarding
BENEFITS - Simplify enrollment & benefits management
LEARN - Expand knowledge & skills with a single LMS platform
Industry Leading Software
Built specifically for small to mid-size employers
iSolved's payroll lets you view and process payroll when you want, where you want and how you want.
View Demo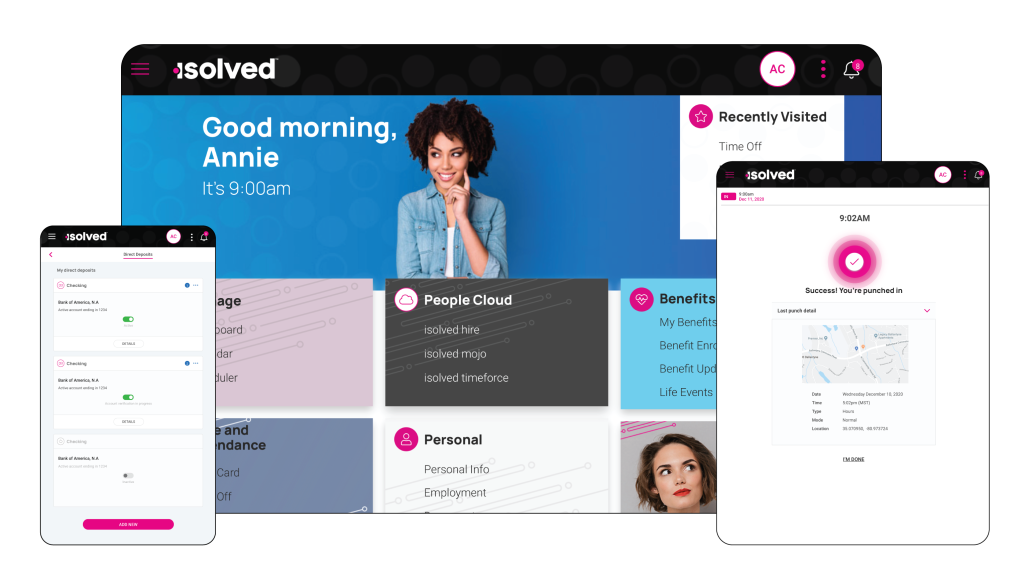 Anytime, Anywhere Access
Secure cloud-based data servers give you flexibility.
Direct Deposit and Pay Cards
Take advantage of safer and cheaper alternatives to paying with paper checks.
Integrated Payroll Tax Filing
End the task of the multi-state, multi-location tax-filing nightmare.
Employee Self-Service
Easily access pay stubs online, saving you time and money.
Simplified Garnishments
Our system imitates court-order language to ensure accuracy.
Comprehensive Data Security
Protect data with multi-layered security and SSAE-16-certified data centers.